About RTAI-Lab


The
RTAI-Lab project
provides a tool chain to develop block diagrams that can be compiled and executed on the RTAI real-time Linux operating system. RTAI-Lab is included in the
RTAI
distribution.
Block diagrams can be developed using either
Scilab
/
Scicos
(Open Source) or
Matlab/Simulink
/
RTW
(commercial).
See also: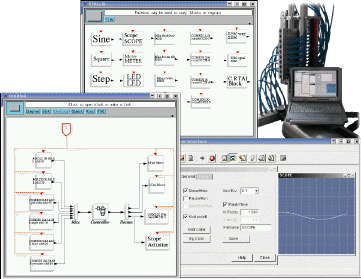 RTAI-Lab main features
Adds RTAI-Lib palette of RTAI blocks to Scicos to develop real-time block diagrams
Enables host and target systems to communicate via net_rpc
xrtailab virtual oscilloscope and monitoring application lets you interact with the real-time executable
Automatic real-time code generation from Scilab/Scicos
Possibility to port Matlab/Simulink/Real-Time Workshop projects to RTAI
Interfaces to signal acquisition hardware and other devices supported by Comedi
RTAI-Lab bug reports
To report bugs, ask questions, or submit improvements contact roberto.bucher at supsi.ch.For bug reports please provide Linux kernel version, RTAI version, RTAI patch number, CPU type, data acqusition hardware type, Scilab version, gcc/g++/cpp versions, the block diagram that may cause the bug (.cos file), outputs using verbose option "-v", and possibly kernel logs resulting from "tail -f /var/log/syslog".
RTAI-Lab project leaders
Roberto Bucher, roberto.bucher at supsi.ch
Lorenzo Dozio, dozio at aero.polimi.it